I've had my husky puppy, Piper, for a little over 6 months now and I thought I'd share her full story so far. So here it goes …
I moved into my current house at the very end of December 2020 and I knew after I moved into the house I eventually wanted to get a dog. Fast forward to February and I started my new job. Since I had a job that I loved and that also paid me much more fairly than my last job did, I started looking at dogs for adoption within a few states of me.
I checked listings ALL THE TIME and sooo many animal shelters. I found a Florida based husky rescue, but long story short my application was denied for reasons that had nothing to do with me. I spent MONTHS looking. I actually found one adorable mixed puppy named Piper, but I was too hesitant to apply.
It was Sunday, August 8th and I was taking a work break and browsing Craig's List. I found a listing for some husky puppies that were about 3 hours away from me. Since it was 2am, I sent an email asking about them.
I didn't hear anything by the next morning and since I was too excited to sleep, I texted the number. A very lovely woman texted me back stating she had 2 females left (1 solid white and 1 mostly solid white with some black on the ears) and 1 male that was red and white. I called my mom to tell her what I found. I told my boyfriend at the time as well (since we were leaving together at the time and he also had a dog). My mom told me to do whatever I wanted to do, my boyfriend at the time told me to do it and said he'd take off work to go with me. So I did it. I put down a deposit for a dog that I didn't even know if it'd exist since ya know it's Craig's List and you never know. I called my best friend and also let her know.
The plan was to drive up the following Monday and go pick up the puppy, but the weather had other plans. We had a really bad storm that was LITERALLY going to be over the area we had to drive to pick up the puppy. Driving 3 hours there and back in a storm that could be turning into a hurricane just didn't sit well with me. I texted the very nice lady and I asked if I could pick her up a few days earlier, and she said sure. My boyfriend couldn't come with me, so I asked my best friend and we planned to go pick her up on August 13th, a Friday. And we did. We woke up bright and early and made it to the house at about noon.
The family was soooo sweet, you could tell they loved their animals and they even gave the husky puppy I was getting a bath before we got there! I signed some paper work, paid the balance, and she handed me my new bundle of joy. As soon as we went back into my friend's car I took a photo of her.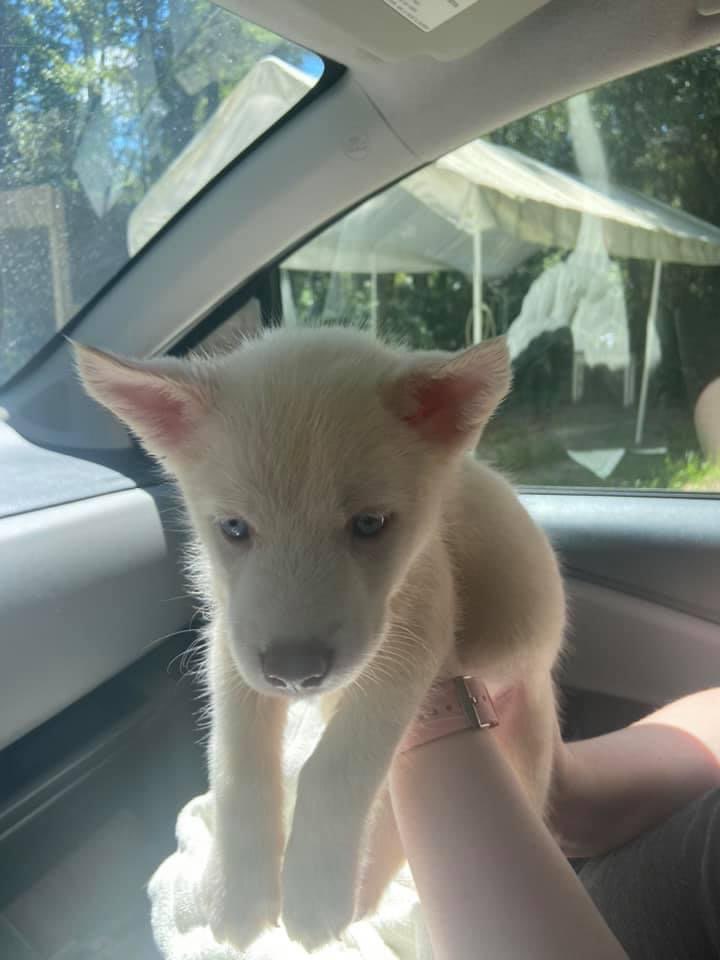 We stopped for gas, and snacks, and let the puppy (very carefully) use the potty before driving back home! We stopped halfway to get drinks and then stopped at a pet store when we were back in town because I needed to get Piper a few things. I decided on the name Piper because it's the name of one of my favorite sisters in the show, Charmed! And yes, I carried her the entire time since she wasn't vaccinated yet.
Then I took her to see her new home and her sister. The pups met outside and they did SO well. I thankfully had about a week off from work anyway because my brand new PC arrived, so I messaged my boss and I asked if I could take a few extra days because I got a puppy haha. And yes, I sent coworkers lots of photos.
The next week off of work was spent playing, training, and taking Piper to her first vet visit (she did great with by the way). She even got to try her first pup cup at Starbucks! She also got to go to my mom's house and meet her Nana, and she still loves going over there.
Although it's been Piper and I alone in this house for a while now, I can't imagine not having her in my life. She's now 8 months old and almost 40lbs! She also just spayed a week ago and is healing well. I am so excited for her to continue growing and learning.
Now here's some puppy photo spam …